Hierarchy of Needs
Submitted by:: Sandi - 14-Jan-2015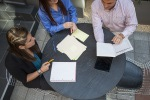 The sense of belonging is one of our fundamental human needs. The American psychologist, Abraham Maslow, is widely known for creating his model of Hierarchy of Needs in which the 3rd level of the hierarchy is Belongingness & Love Needs (family, friends, relationships, affection and work groups).
Maslow's premise is that innate human needs must be fulfilled in order of the hierarchy (needs at the 3rd level can't be met until needs in the 2nd level have been met, and level 2 needs can't be met unless those at level 1 have been fulfilled).
That's good news for most leaders in our business world.
...
read more