5 Tips for Managing Your Presentation Nerves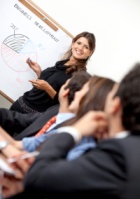 Even the most experienced presenters get at least a little nervous or anxious before a presentation.
And thank goodness they do!
Without some level of this, presentations would be very dry, boring and lacking in energy.
So ... you're goal is not to eliminate nervousness - just to manage it well!
And these tips will definitely help!