Are you living your full potential?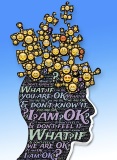 In my work, I frequently speak with people who are disenchanted with their lives.
"I feel so frustrated … I've been doing the same thing at work for years and I just can't seem to get ahead."
"I feel lost. I know I am capable of doing more but have no idea how to achieve what I really want to do."
"Maybe I'm just not meant to do anything else. I mean, who am I to want more?"
I find this very sad. It's like we've bought into some idea that we have to achieve world-wide recognition for who we are and what we do before we will give ourselves permission to go for what we really want in life.
Comparing ourselves to others is the other obstacle I believe stands in our way. When we can see someone already doing something really well that we'd like to do, we tell ourselves 'well, I'll never be that good – so why bother?'
If you know there is untapped potential within you, here are three steps you can take today to start moving in your desired direction for greater fulfilment and satisfaction in your life.
1. Your Skills Inventory
Grab some paper and pen. Write a list of those skills and talents you know you possess that are not currently being utilised.
Are you creative? Good at problem solving? A great connector of people? A fantastic cook? Do you have an amazing ability to focus on detail? Are you good at creating systems and processes?
Resist temptation right now to limit your thinking to only those things that might lead to making money.
Think of the whole of you – and especially those things that bring you joy.
2. Pick a skill you want to put to work
Which one? Aim for one that brings you the most sense of achievement – the most happiness – the most sense of pride.Now come up with one or two ways you could start to bring that skill to life.
Again, it doesn't need to be related to your income-producing role. I know many, many people who are fairly happy at work and not wishing to change jobs who find their skills put to great use in their volunteering roles. And this leads to them feeling more fulfilled, happy and satisfied in their lives.
Perhaps there's a community group who needs exactly what you have. Or you could start a new group, using these skills – maybe even teaching them to others who want to learn these.
Or it could be a neighbour or friend who could use your help.
Trust me – your talents are needed somewhere. Your mission is to find that place.
Neighbourhood houses, community associations, local volunteering groups and causes you'd like to support are all great starting points.
3. Take the first step
Often we get stuck because we can't see the entire process that will lead us to our goal.
Trust me – you don't have to know the whole thing at the start. You just need to know your first step.
Is it a phone call? Talking to your neighbour? Chatting to someone who is already involved in a group or association where you would like to help?
Simply select a first step – and take action.
I'm not for a moment suggesting this is an all-inclusive list of what you can do to live your full potential. I do believe it's small – and that helps making a start achievable.
Take a first step … and trust the next step will appear as and when it needs to.
Good luck!