Do you ask for help as often as you should?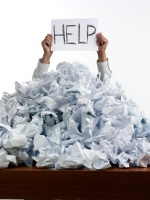 I've just received my latest Post Program Executive Report for a client I worked with last week. I used to do these myself - but then I finally saw the light ...
The report involves calculating the numeric responses on the feedback sheets - the number of people who rated different aspects of the session 'Excellent', Very good', etc., as well as calulating the averages and entering the particpant comments.
I can't tell you how long this used to take me do do on my own. Meanwhile, my client is not receiving the prompt, professional service I really want to give them.
Enter Vanessa Ashby, The Exceptional Assistant. That's not only the name of her company, but the way she does her job.
Vanessa is able to complete the reports in about one-tenth the time I reckon it used to take me - so the client receives this important information in a much more timely manner. And I can get on with other things on my ever-growing To Do List.
It took me a very long while to learn to ask for help when I really should.
There were always reasons not to ...
They won't do it as well as I can

It's too hard to explain this to someone else

It will cost me money to outsource this

If I was really, really good, I could just handle everything myself.
and on the list goes ...
So whether it's for business or something in your personal life, is it time you asked for help?
PS. I probably shouldn't tell you how to get in touch with Vanessa, because she might get too busy to help me. But hey - she's definitely worth recommending to you if you're attempting to everything yourself in your business. Just Google 'The Exceptional Assistant' and you'll find her!