Archive for September 2017
Blog
Submitted by:: Sandi - 7-Sep-2017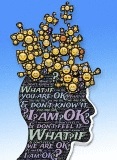 In my work, I frequently speak with people who are disenchanted with their lives.
"I feel so frustrated … I've been doing the same thing at work for years and I just can't seem to get ahead."
"I feel lost. I know I am capable of doing more but have no idea how to achieve what I really want to do."
"Maybe I'm just not meant to do anything else. I mean, who am I to want more?"
I find this very sad.
...
read more