Do your Team Members feel like they Belong?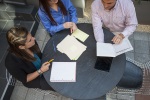 Abraham Maslow identified the need to belong and experience connection with others as a fundamental human need.
Yet, as I travel across the country, I see countless workplaces where people are isolated (physicaly and emotionally) and operate in distinct silos.
Want to help your Team Members feel they belong?
Help yourself to this article (no additional sign-up, sales letters or offers attached!) - I know you'll find some helpful ideas here.
Enjoy!