Excuses & Lies in the Workplace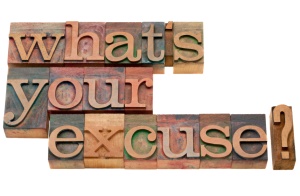 As I stood in line to be served at our local Post Office, an item caught my eye. It was a small box (about 10cm square) that evidently held lots of cards with information on them. (It was sealed, so I couldn't look at the actual contents.) And the title on the box was this:
400 Excuses and Lies for the Workplace
Ways to get yourself out of trouble when you should be working
Don't get me wrong - I can imagine many cards (read 'excuses' and/or 'lies') would probably be quite funny.
Yet I was also struck by the fact that many of my clients's businesses have cultures that are almost literally built on lies and excuses.
Something goes wrong, and you can hear "Not my fault" being shouted from all corners of the building.
Ask who last spoke to the angry customer whose letter you've just read and you'll hear "Not me!" echoing around the halls.
Inquire why something hasn't been done on time, and you'll actually tap into the most creative resources in the organisation!
In her book Stop Workplace Drama, Marlene Chism suggests resistance is expressed in one of four ways -
Blame - "I would have been on time, but Fred stopped me in the hallway to ask a question"
Resentment - "I couldn't get that job done because Mary is the only ones with the keys to the cabinet with the data files - obviously I'm not senior enough to have my own set."
Justification - "Everyone else has long lunches regularly, so I thought it would be OK if I did, too."
Judgement - The Accounts Department is full of idiots."
People seem to resist 'taking responsibility' for something, as they think this then means whatever they are taking responsibility for was their 'fault' in the first place.
Taking responsibility simply means you are willing to step up to the plate and correct something. We all have the ability to have a response to something. And our response will generally either help or hinder the resolution of the problem.
So ... what do you choose?
Will you blame, resent, justify or judge?
Or will you step up, show your leadership and take responsibility?