reflections
Submitted by:: Sandi - 28-Mar-2017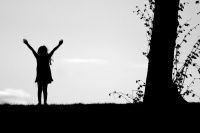 I recently attended a three-day women's festival that I attended for the first time in 2016. It's never the same the second, third or umpteenth time around is it? First of all, there's that 'first time newness' that we can only get once. "Wow! Look at that!" "Goodness, that's amazing!" And so on … because we are seeing things through fresh, first-time eyes.
In our subsequent visits, while we look for that same magic, but logically know it will be different than our beloved 'first-time'. We then start to notice what's not there that we liked the previous year(s), and lament "But I really liked that!"
So this year, I decided to focus instead on what was new, different and intriguing. And that's how I came across The Release Tree.
...
read more
Submitted by:: sandi - 1-Oct-2012
I'm so delighted with my new web site! And especially the fact that I can easily post blogs here ... so to get me in the habit of writing regularly, I've joined the Ultimate Blog Challenge for October!
...
read more
Submitted by:: sandi - 7-Aug-2012
There's no doubt Australia loves its sportspeople. Now in the throws of the Olympics, we are bombarded with media about these 'heroes'. We can send 'Hero Messages' to support and congratulate them. We hang on to the hope of them bringing home the largest-ever haul of Gold Medals.
...
read more
Submitted by:: sandi - 24-Jul-2012
Having your heater break down during a Melbourne winter is not much fun – especially when you are working from home. I'd put on as many layers of clothing as I could and still be able to move my arms and fingers to do my work on my computer. And I was still cold.
...
read more