Double-speak and Silence hide the truth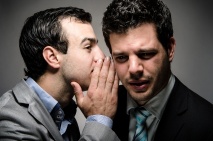 Irrespective of what your stance is on how we should deal with Australia's asylum seekers, this post holds some important truths for all our leaders.
Stephen Yolland is a well-known Australian/British businessman, with expertise in marketing and advertising. He is a writer, social and political thinker, media presenter and author.
(I confess, I'd never really known of him before I came across his post today.)
In his post about Immigration Minister Morrison and the significant drop in communication to the public regarding 'Operation Sovereign Borders' (the new government's initiative to stop asylum seeker boats from landing here), Yolland suggests that:
silence is not golden when it is designed to mislead us, and obscure the truth.
And I agree.
So many organisations are headed up by leaders who are lacking the courage to speak the truth to their troops. So in countless instances, they say nothing. They rationalise this by saying things like 'what they don't know can't hurt them' and 'I don't want to lie to them so I prefer to say nothing'.
Well hear this - you can lie by omission.
That's right. Not telling people something you know is of interest to them and/or impacts them in some way is lying.
So gut some gumption leaders. Use your voice - tell the truth - quit treating people like sheep (or worse ... we all know that saying ...)
If you can't do this, then please move on and make room for someone who's truly ready to lead.
PS. You can read Yolland's full post here:

http://wellthisiswhatithink.wordpress.com/2014/01/15/morrison/?blogsub=confirming#blog_subscription-2